This is a set of six cards I created as a special request for a client. They're all basic black and white with pops of color - six different colors. I *love* this client! :)
The design for this card came from a visit to Hallmark with a friend. I typically do not go into gift/card shops because I can make just about anything I want; however, I got a *ton* of inspiration from looking through their stash. Of course, I can make them better. ;)
All of the cards measure approximately 4.25 X 5.5" (standard A2 size) when closed, so they fit into a regular card envelope.
I love the way they look all lined up together - so striking! :)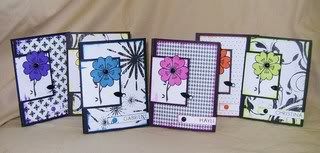 The cards are held shut by a photo corner. Once you turn it up or down, the little flap with the flower opens to the left and then the patterned paper panel opens to the right. Like this: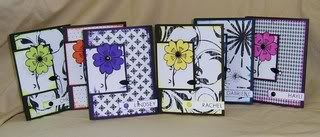 The black and white patterned papers come from SU! and CM - the ink and stamps come from CTMH, as does the cardstock and embellies.
Enjoy!
2010 GOALS:
Cards - 200 (33 completed)