My 5-year-old daughter is in *love* with Fimo right now. She wanted to try something new, but crafty (of course, because she's my daughter) and I thought she'd like making swirly beads - and I was right! :)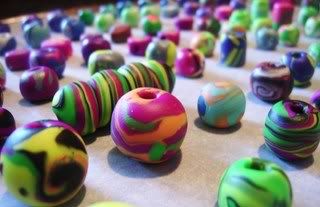 She made over 100 beads in one day! She was like a bead-making machine! The color combos and different swirls just kept her so excited - and ready to make more! Watching her was inspiring to me. :)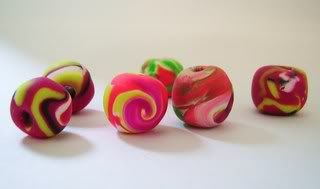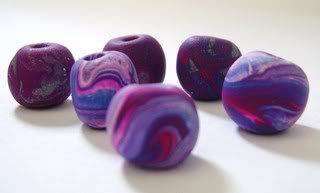 I decided that I wanted pictures of her start to finish process, so here are a couple shots from beginning to end (sorta):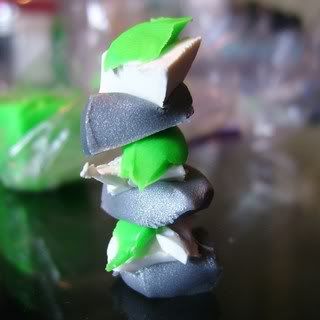 She always stacks them on top of each other because, "That helps them be swirly, of course."
Then she rolls them out into a "snake" and then she ties it in a knot. All of these "intricate" steps equal a really cool swirl. :)
See - she cut off a piece of that knot and rolled it into a ball - and look at that cool swirly! Not sure how she figured all of that out, but I do think it is really neat.
Hope you had fun checking out Syndel's goodies. She was very proud of herself (I was too). If you have crafty little ones this is a great way to spend an afternoon. Even my 2-year-old played around a little with the polymer clay and had a good time. The whole process is relatively mess-free, too.
Enjoy!