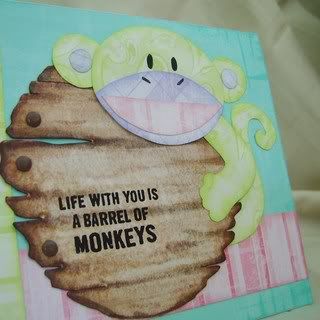 I love monkeys - they're just so cute - especially when they're green and kinda patchworked. :)
The card measures a standard A2 (4.25 X 5.5") and is blank on the inside.
I paper pieced the monkey from a couple different B&T (background and texture) papers from CTMH - old school CTMH - these papers are retired. :(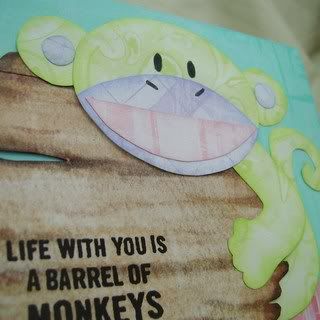 The "wood" is white cardstock cut out with the coluzzle circle then sketched with pencil into boards. Once I did that, I trimmed around the edges to make them more "board-like" and then started in with the Copic markers. I used about six different shades of brown and then blended - then added more brown and blended some more - then blended even more after coloring some more. It took me a while, honestly, but I think it turned out okay. Once I added some brads ("nails") I think it looks pretty cute. :)
Enjoy!
2010 Goals:
Cards - 200 (49 completed)