Wow! This year has already proved to be both busy and stressful for my family. I can only hope that the year improves...and quickly.
But, on to my pages...I haven't had much time to post, but I have been scrapping. It gives me a nice escape from our daily drama.
The first layout I did was a double page (yeah!):
Left side:
Right side: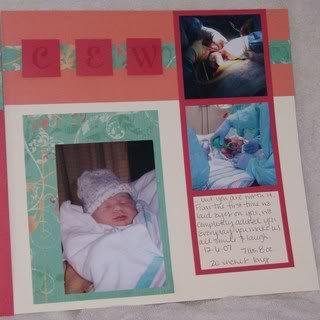 Those pictures were taken during delivery (C-Section) and the subsequent days at the hospital with my younger daughter, Ceryse.
The next layout I did was a single page (I'll most likely use this as the first page in her album):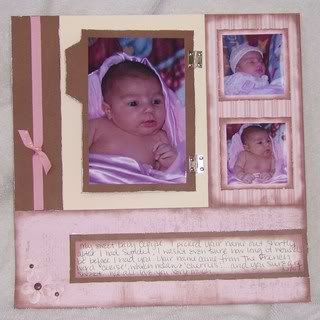 That 'file folder' opens to reveal another picture behind: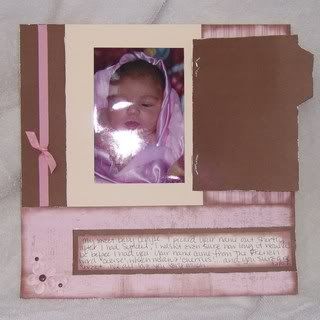 The journaling on this page goes over how I picked her name and when....which is a good place to start her album, I think. :)
The layout I completed yesterday was another double page (yeah!):
The left side:
The right side:
I love those pictures....taken in early 2008, Ceryse was only a few months old.
I'm going to *try* to go in order, so that I can get her first year scrapped and put in an album...but I'm going to be honest, that probably won't always happen. Sometimes I come across other photos and am so inspired and get an idea in my head that I'll have to skip ahead and do those now. :)
To help with my challenge, I've decided to utilize the CTMH 'how-to' books. The one I'm starting with is 'Imagine', and while it is the second of the 'how-to' books, I really like it. The layouts shown above are from that book. Once I do all the layouts in that book (which will give me 100+ pages), I'll move on to 'Cherish', which was the first book Jeanette released.
Did anyone else out there make a crafty resolution? Anyone going to scrap along with me this year?
Enjoy!