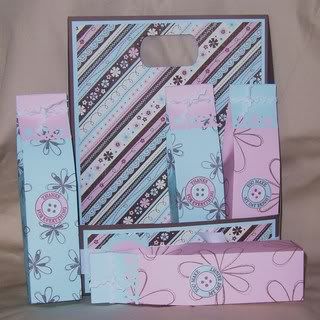 This has to be one of my favorite projects. I love not only the paper (from CTMH, "Topstitch") but the entire project itself. I am going to give one of these to my daughter's teacher for Teacher Appreciation Week...and I know she will love it.
I'm not sure how
Shannon
did hers exactly for the lids/toppers of each of the little gift boxes, but I glued the ribbon to the back of the topper and tied around the front. This way the topper can be removed and the box opened...then you can slide it right back over the top and close the box again. Great for over and over use. :)
I know I will make this project over and over again...and I'm sure that I'll give tons away over the years to come.
Enjoy!