Let me just start by saying that this was *the* hardest card I have ever made. Not because constructing the card itself was difficult but because I could not wrap my head around the idea of the card. In my 400+ stamp sets, there is not one single cross....first challenge. Create a First Communion card with NO cross stamps.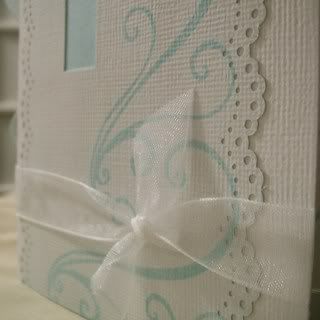 Second challenge....my girlfriend wanted something *simple*. I have a hard time with simple, evidently. I worked this card over and over and everytime it looked a lot like something other than *simple*. So I went searching and searching for inspiration. Something I could grasp onto...and I found it at SplitCoastStampers.com - Thank You!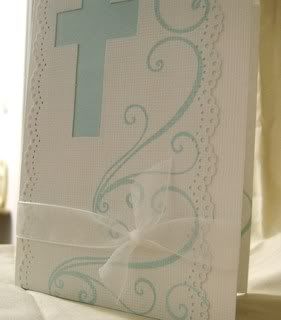 My next challenge....photographing a primarily white and light colored card without it washing out horribly. That was not an easy task either. Now, if I had a better camera, probably wouldn't have been such an issue...but my camera is old and I have to really strain it sometimes.
Overall, I think the card is beautiful and I think it photographed alright...and my girlfriend seemed genuinely happy with them (a set of 6), so all in all it was a success....eventually.
All products used (minus the edge punch) are from CTMH. (Gotta love that textured cardstock)
Enjoy!
2010 GOALS:
Cards - 200 (26 completed)