I just loved these pictures! This was an interesting day for my family. Syndel, my older daughter, and I are practically fish...so I was expecting Ceryse to love the water, too. Well, I was in for quite the surprise! She hated it...and I do mean HATE! LOL
So, she spent the entire day sitting in on the side of the pool with my Mom...in her little sun hat. How adorable!?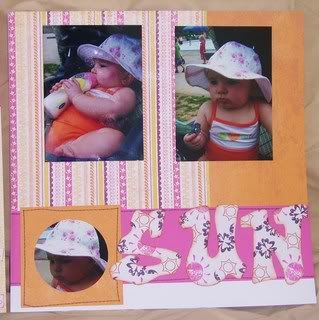 The title is hand-cut. I tried a new technique for this title...and I love it! I took a font from my computer (Aerosol) and typed "FUN" and "SUN"....then I pasted them into PowerPoint (as an image) and flipped them so that they'd print backwards.
Once I printed them out (and they were backwards) I random stamped on the non-printed side. I cut around the letters...but rounded some edges more than they were, changed a few things here and there until I got exactly what I wanted...and this was the result. A new fun and funky title...that I adore!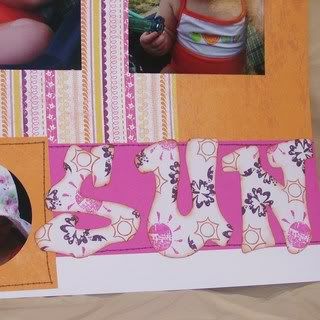 The patterned paper is from Stampin' Up!...the stamps, ink, and CS are from CTMH. Love it when they work together. :)
-Enjoy!
GOALS for 2010
Pages - 250 (11 completed)