Okay, so this has to be one of the cutest things I've ever made! A little cupcake box - really! This is the first one I've made...so I have some tweaking to do to make it perfect, but still...very adorable!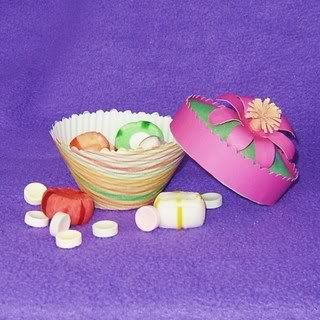 The whole lid comes off to reveal some sweet treats waiting inside...just not cake.
I used DCWV's "Sorbet" paper stack again...I really do love that paper! With the lid on, the cupcake measures about 3" wide and just under 3" tall (including the flower on top).
To add dimension to the cupcake "base", I ran the paper through a paper crimper and then added fun borders with specialty scissors my hubby bought me a while back (but I rarely use them, so he was happy to see them in hand).
Enjoy!